What Is Automatic Delivery for Home Heating Oil?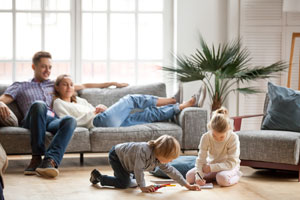 If you're a home owner living in NJ or NY, you've got a lot on your plate – especially during the fall and winter, when responsibilities for school, work, and the holidays can more than fill your calendar (and your mind).
When your schedule gets this busy, the last thing on your mind is the level on your heating oil tank gauge. If managing your heating oil deliveries has fallen off your radar and temperatures drop suddenly, you could end up on the wrong end of a no-heat emergency, or suffering the other consequences of a fuel run-out.
But you can avoid those problems by doing one simple thing right now: switch from Will Call delivery to FREE automatic heating oil delivery from Globe Petroleum.
Not sure if automatic delivery is right for you? Here is a basic description about this convenient service. If you have further questions, just ask us.
Automatic heating oil delivery basics
How it works – We estimate the timing of your heating oil delivery based on your past usage and a "degree day" formula, which estimates how much heating fuel a home your size would use given current weather conditions. When your heating oil tank reaches about one-quarter full, we will schedule a delivery. If you would prefer us to call you first, just let us know.
Automatic vs. Will Call delivery – With Will Call delivery, you are responsible for tracking your fuel levels and scheduling your heating oil delivery. You may also have to wait for a refueling in periods of high demand. With automatic delivery, you don't have to manage your fuel or wait for a delivery; it will be scheduled based on your need.
Why is it "free"? – Automatic delivery is offered at no additional cost because it benefits us, too. If we know when you need heating oil, we can schedule our delivery routes more efficiently – which means we can serve more customers and avoid having to divert crews to deal with emergency run-outs.
Let Globe Petroleum take the hassle out of managing your home heating oil supply with automatic heating oil delivery in New Jersey and parts of New York! Contact us today to become a Globe Petroleum customer, or to make the switch from Will Call.