Enjoy Discounts with Our Payment Options and Methods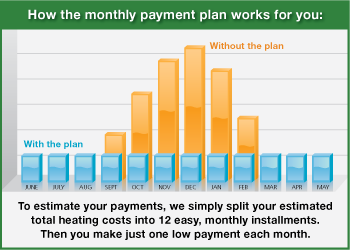 Find the right payment option and method and then put it to work for you! Globe Petroleum offers our customers the following to choose from:
Choose payment option 1
Pay your entire invoice 10 days from delivery by either mailing us a check or having us charge the credit card you have on file with us.
Save: customers receive a 4-¢-per-gallon prompt pay discount with this option.
Or choose payment option 2
Enroll in our monthly budget plan, spread your fuel payments out over a 12-month period and avoid large payments during the winter months
Save: Mail us your budget payment every month within 10 days and you will receive a 4-¢-per-gallon prompt pay discount.
Save more: Enroll in the EZ Pay EFT payment option and receive a DOUBLE discount of 8-¢-per-gallon. Globe will automatically draft your monthly budget payment from your checking account.
Choose your payment method
We offer you three convenient ways to make your payment.
Simply mail us a check—pay within 10 days and get a 4-¢-per-gallon prompt pay discount.
Keep a credit card on file and allow us to charge your payments as they come due. This is the easiest way to ensure you get your 4-¢-per-gallon prompt pay discount.
Double your discounts! Sign up for Electronic Funds Transfer (EFT) from your bank account and get an automatic a 8-¢-per-gallon prompt pay discount—guaranteed. You'll never be late with a payment.
Enroll now!
Call or email us to enroll now! Sign up anytime. Adjustments to our monthly budget plan are made in July and September.
Contact Globe Petroleum today to learn more and to discuss all your home heating-oil needs.