Onsite Fleet Fueling in New Jersey
Ask us about diesel and gasoline delivery for your business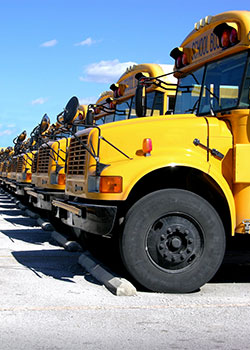 We serve the transportation, disposal, construction, marine, agricultural, manufacturing and distribution markets within our service area. Our customers stay with us because they know that with Globe, their fleets are set up for success.
Understanding fleet fueling
Sometimes called wet hosing, fleet fueling is a way for customers to save on labor, maintenance and other ongoing expenditures. It's ideal for companies that don't or can't have fuel tanks on their own property. We'll deliver fuel into your running fuel tanks when your vehicles are off duty, so they're ready to go when you need them. Globe Petroleum will save you time and labor costs by delivering fuel right to your location.
Ultra-low-sulfur diesel fuel, guaranteed
Blended with premium, high-quality additives designed exclusively for meeting the strictest manufacturer specifications, Globe's diesel fuel is guaranteed to be ultra-low-sulfur diesel (ULSD) compliant, which is a required EPA standard. Fuel from Globe Petroleum also includes:
Guaranteed all-year equipment protection that works well regardless of weather conditions. ULSD fuel burns cleanly and extends equipment life.
Guaranteed on-site deliveries—on time. Whether you're at a construction site, a trucking company, a farm, a manufacturing-and-processing facility, or somewhere else where heavy machinery is in operation, we deliver to you.
Reduced time and labor costs. Delivery directly to your location will save you time and money.
With Globe, you can say goodbye to retrofitting costs. From farm equipment to bus and truck fleets, generators, pumping stations, boats, and more, ULSD is 100% compatible with all diesel engines used in America today
Decades of proven on-site, on-time deliveries
Globe Petroleum will save you time and labor costs by delivering fuel right to your location. We understand that every truckload of diesel fuel is vitally important to the success of your business, and you can depend upon us to meet your diesel fuel needs season after season, throughout the year.
Call or email us today to learn more about how we can help you with:
onsite diesel fuel
diesel delivery
gasoline delivery
Globe Petroleum's expert professionals are ready to book your next order, so contact us today. Our team's fuel management expertise will take the guesswork out of your commercial fuel delivery.