Help – My Oil Heater Won't Turn On!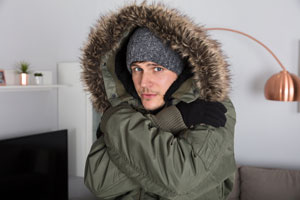 Do some troubleshooting before a service call
When winter has New Jersey in its icy grip, you depend on your home's oil furnace or boiler to keep your home and family safe, warm and comfortable.
That's why your oil heater not turning on during the winter can be a little—OK—very unnerving and upsetting. No heat in your home in cold weather is not only uncomfortable, but it can also be unsafe for both you and your home. Freezing and bursting pipes are one of the many problems that can happen in no-heat situations.
First of all, don't worry. Globe Petroleum is available with 24/7 emergency service for your oil heating equipment by our trained and experienced professionals.
But what if you don't need to make a call for emergency service? That may be the case for you. A little troubleshooting before you pick up the phone can save you money and quickly get your home warm again.
Here are four things you should do before contacting Globe Petroleum for emergency service.
Check to see if you have heating oil in your heating oil tank. If you've been using more heating oil than usual lately thanks to colder weather, or if you forgot to check, you may have run out of heating oil. If this is the case, contact Globe Petroleum for an emergency heating oil delivery. By the way, this is also a good time to sign up for automatic heating oil delivery. No need to check your tank gauge levels because our sophisticated computer system accurately monitors your fuel usage as well as the current weather and schedules a delivery before you run low.
Check the emergency switch. Look for the red switch box on your furnace. The switch is part of an emergency system designed to shut down your heating system in the event of the burner flame going out. There can, however, be a false indication of the flame going out. If that's the case, a simple flick of the emergency switch is all you'll need to do to get your furnace up and running again.
Check the circuit breaker. A breaker will trip if too much power surges through the circuit it controls. This is to prevent electrical fires. Flip the circuit breaker switch to restore power. If that doesn't work, the problem may be something unsafe and your oil heater needs to be checked by a professional service technician like Globe Petroleum's.
Push the reset button ONLY ONCE. Somewhere on your furnace, there should be a button that is clearly labeled "RESET." Before pushing it, go to your thermostat and turn it up to the highest setting. Then come back and press the reset button once. Again, ONLY ONCE. Pressing the reset button more than one time could flood your heating equipment with heating oil. If there are no other problems—you have heating oil in your tank, the emergency switch is on, the circuit breaker is reset and there are no other issues with the oil furnace or boiler—your oil heating system should turn back on. If the oil burner reset button trips, call Globe Petroleum for a no-heat emergency service call.
When the oil heater doesn't turn on in your New Jersey home, Globe Petroleum is here for you. Get in touch with us to learn more about our services!