Environmentally Friendly Lubricants: Three Terms You Should Know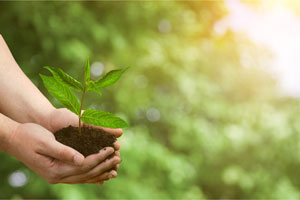 Biodegradable. Non-toxic. Renewable. Plant-based.
Terms like these are critical to people who sell, manufacture, and use commercial lubricants…especially when those lubricants are used in environmentally sensitive industries and applications such as agriculture, forestry, municipalities, mining, and marine environments.
The terms can also be misleading if you don't understand them correctly.
Here are three of the most common terms you'll hear in discussions about environmentally friendly lubricants, and what they actually mean:
"Biodegradable" – To be biodegradable, a lubricant must degrade in the presence of microorganisms such as bacteria, fungi, or algae. There are two generally used measurements for biodegradability – primary and secondary. Primary degradation is measured by a reduction in carbon-hydrogen bonds, while secondary (or "ultimate") biodegradability measures the evolution of carbon dioxide through the degradation process over a period of 28 days.
"Bio-Based" – Bio-based is a term that indicates (according to the USDA) that at least half of the materials used in a lubricant's formulation are made from renewable / agro-based and biodegradable base stocks. Examples of renewable stocks include corn, potatoes, rice, soy, sugarcane, wheat, and vegetable oil.
"Green" – Like "eco-friendly, "nature-friendly" and "environmentally friendly", "Green" is a marketing term. While these types of lubricants may be free of heavy metals and other potential toxic ingredients, they are not necessarily made from biodegradable or renewable sources.
As you can see, these three simple terms carry a lot of meaning that have significant implications to a sensitive environment – which is why you need a commercial lubricant expert to help you source the right product for your needs.
Globe Petroleum features Clarion Environmental Lubricants
Globe Petroleum features the full line of industry-leading Clarion Green Lubricants – products that offer premium lubrication performance for industries operating in environmentally sensitive areas such as open water, inland waterways, ports, watersheds, and other locations.
Clarion Green Lubricants can be safely used in a range of industries and applications, including:
Agriculture
Dredging operations
Fisheries
Tugboats
Cargo port operations
Logging
Mining operations
Golf courses
Onshore and offshore drilling
Subsea robotic systems
To learn more about the Clarion Green Lubricants we feature, check out this page – or check out descriptions for each product on the Clarion Lubricants website.
Globe Petroleum's team of pros is ready to book your next order for environmentally friendly lubricants, so contact us today. Our experts will guide you to the right products and take the guesswork out of your commercial lubricant search!