Beer Distributors: Be Ready for March!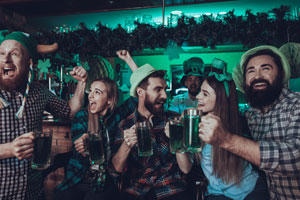 March is a big month for the beer business in the Northeastern US, with March Madness and St. Patrick's Day looming on the horizon for bars, retail stores, and distributors throughout the region.
If your fleet serves the folks who serve up a cold one, you want to make sure you're ready for the March crush with diesel fuel from the most reliable supplier in our NY/NJ service area: Globe Petroleum.
Globe Petroleum provides expert fuel deliveries directly to your tank or fleet; whether you need 100 gallons to fill a small tank or several thousand gallons for an industrial site, we will get you the quality fuel you need where and when you need it. If you have a diesel tank, we can also accommodate your bulk commercial fuel needs.
Choose Globe Petroleum for a reliable supply of any of the fuels you need for your business, including:
Gasoline (all grades)
On-highway ultra-low-sulfur diesel fuel
Off-highway ultra-low-sulfur diesel fuel
Kerosene
Heating oil
Fuel additives
Globe Petroleum: Affordable fuel, reliable fuel delivery
As a Globe customer, we offer reliable bulk deliveries of premium diesel fuel, delivered on a schedule that works for you, and always at a fair price. And with comprehensive bulk delivery services like automatic delivery and inventory management, we can help you run your business smarter, too.
Need reliable diesel fuel or gasoline deliveries or service in our NJ/NY service area? Globe Petroleum experts are standing by ready to book your next order. Contact us today to put our fuel management expertise to work for you!